Team Canada Coach, Glenn Clark, Wins 2020 Petro-Canada Coaching Excellence Award
---
---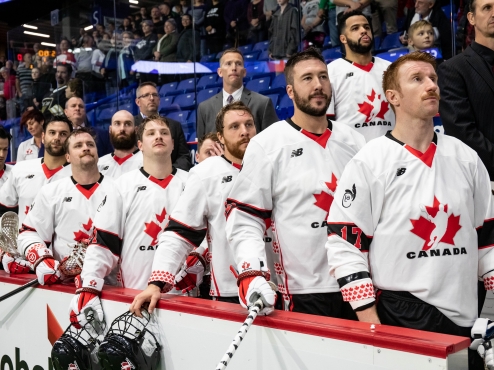 ---
Head coach of the 2019 Canadian Men's Box Lacrosse Team, Glenn Clark, has been awarded the 2020 Petro-Canada Coaching Excellence Award. He is being recognized for his coaching at the 2020 World Indoor Lacrosse Championships where Team Canada captured gold for a fifth consecutive time.
The Coaching Association of Canada is presenting this award at the Petro-Canada Sport Leadership Awards Gala. This year, the gala is being hosted virtually on Thursday, Nov. 5 at 7 p.m. ET.
"This award is a result of a total team effort. We brought players together from all parts of the country and various organizations. Management, coaches, support staff and players worked incredibly hard to bring home gold for the program," said Glenn Clark about the 2019 Canadian Men's Box Lacrosse Team.
"The experience of working with the Team Canada program is special. The opportunity to work with coaches and players of this calibre is such a rich experience. The sharing of ideas and the ability to learn from this group was such an amazing growth opportunity."
Clark was the assistant coach for the Canadian Men's Box Lacrosse Team in 2011 and 2015, taking on the role of head coach in 2019.
"We are very pleased that Glenn has been recognized for this award. He is passionate about lacrosse but also very committed to continue developing as a coach at the highest levels of our sport," said Eddie Comeau, GM of the Canadian Men's Box Lacrosse Team. "His professionalism, preparation and commitment to his teams, players and staff help make him and his teams successful. Our national team and our sport are fortunate to have a coach like Glenn leading our teams and helping shape lacrosse."
About the Canadian Lacrosse Association
Founded in 1867, the Canadian Lacrosse Association (CLA) is the governing body responsible for all aspects of lacrosse in Canada. Our organization is comprised of 10 Member Associations representing nearly 85,000 individual participants, including coaches, officials, and athletes of all ages and abilities. The CLA's mission is to honour the sport of lacrosse and its unique nation-building heritage, by engaging our members, leading our partners, and providing opportunities for all Canadians to participate. The CLA oversees the delivery of numerous national championships and the participation of Team Canada at all international events sanctioned by the World Lacrosse. The CLA is proud to be affiliated with partners that share the same vision and values, including our corporate partners - NormaTec Recovery Systems, Canadian Red Cross, Westjet, RockTape, OPRO and Baron Rings - as well as our funding partners the Government of Canada, the Coaching Association of Canada, and the Canadian Lacrosse Foundation. For more information on Canadian Lacrosse Association and the sport of lacrosse, visit our website at www.lacrosse.ca and follow us on Facebook, Instagram and Twitter.
For more information, please contact:

Victoria Klassen
Communications and Marketing Coordinator
Canadian Lacrosse Association
Phone: 613-260-2028 ext. 302
Email: victoria@lacrosse.ca