Team Canada Men's U19 Field Lacrosse Top 32 Players
---
---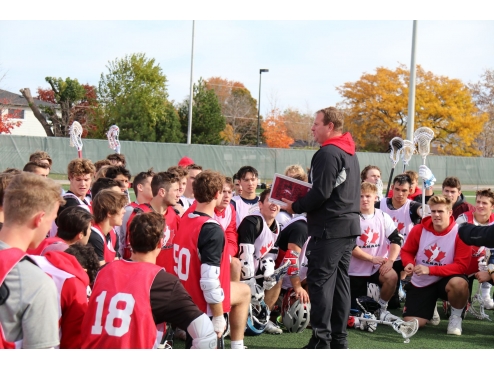 ---
Ottawa, ON — The top 32 players moving on to the second evaluation camp for the 2020 Canadian Men's U19 Field Lacrosse Team have been announced.
"After a highly competitive evaluation camp at the end of October, we have chosen this group of 32 players to move forward in our process," said Matt Brown, head coach of the 2020 Canadian Men's U19 Field Lacrosse Team. "All 73 players who attended the evaluation camp should be extremely proud of their efforts. They represented themselves and Canada well. This is a talented group and getting to 23 won't be easy."
During the first evaluation camp in the fall, 73 athletes from across Canada gathered in Oshawa, Ontario to participate in a weekend filled with practices and scrimmages. Over the three days, the Team Canada coaches saw tremendous effort and passion shown by the athletes.
A second evaluation camp will take place in the spring of 2020. More information regarding this camp will be released shortly. The 23 athletes selected for the final roster will represent Canada at the 2020 World Lacrosse Men's U19 World Championship. This world event will take place in Limerick, Ireland from July 9-18, 2020.
Below is the list of the 32 athletes, in alphabetical order by first name, who will be moving on to the second Team Canada evaluation camp:
Name Hometown Position Club University
Adam Poitras Whitby ON Attack Whitby Warriors Loyola University
Aden Walsh Oakville ON Goalie Oakville Buzz
Andrew Dalton Toronto ON Midfield Peterborough Lakers Cornell University
Ben MacDonnell Oshawa ON Defense Whitby Warriors Robert Morris University
Brock Haley Brooklin ON Attack ClaringtonGreen Gales University of Vermont
Caleb Creasor Huntsville ON Goalie Barrie Lakeshore Lehigh University
Cameron Ickert Maple Ridge BC Defense Langley Thunder
Carson Milburn Oakville ON Face Off Georgetown University
Dante Bowen Brampton ON Midfield Brampton Excelsiors
David Anderson Cambridge ON Attack Oakville Buzz Yale University
Gabe Procyk Coquitlam BC Attack Coquitlam Adanacs UMass-Amherst
Graydon Hogg Oshawa ON Midfield Whitby Warriors University at Albany
Jack Follows Oakville ON Defense Oakville Buzz Cornell University
Jason Knox Huntsville ON Attack Burlington Chiefs Hobart William Smith
Johnathan Peshko Etobicoke ON Midfield Mimico Mountaineers Johns Hopkins University
Josh Fairey Guelph ON Defense Toronto Beaches Loyola University
Justin Sykes Oakville ON Midfield Mimico Mountaineers Hofstra University
Levi Verch Victoria BC Defense Nanaimo Timbermen Robert Morris University
Liam Phillips Victoria BC Defense Victoria Shamrocks University of Mount Olive
Lucas Osborne Bowmanville ON Face Off Peterborough Lakers
Matthew Acchione Barrie ON Midfield Barrie Bombers University of Delaware
Matthew Wright Calgary AB Defense Okotoks Raiders University of North Carolina
Michael Wilson Niagara on the Lake ON Defense Niagara Thunderhawks Canisius College
Noah Armitage New Westminster BC Midfield New Westminster Salmonbellies Stony Brook University
Owen Hiltz Peterborough ON Attack Peterborough Lakers
Reed Kurtz Puslinch ON Midfield Kitchener Waterloo Braves University of Delaware
Rory Graham Toronto ON Midfield Mimico Mountaineers Cornell University
Ross Scott West Linn OR Attack Rutgers University
Samuel English Burlington ON Midfield Burlington Chiefs Princeton University
Thomas McConvey Toronto ON Midfield Mimico Mountaineers University of Vermont
Timon English Burlington ON Midfield Burlington Chiefs
Tyler Van Wart Orangeville ON Goalie Orangeville Northmen
---
About the Canadian Lacrosse Association
Founded in 1867, the Canadian Lacrosse Association (CLA) is the governing body responsible for all aspects of lacrosse in Canada. Our organization is comprised of 10 Member Associations representing nearly 85,000 individual participants, including coaches, officials, and athletes of all ages and abilities. The CLA's mission is to honour the sport of lacrosse and its unique nation-building heritage, by engaging our members, leading our partners, and providing opportunities for all Canadians to participate. The CLA oversees the delivery of numerous national championships and the participation of Team Canada at all international events sanctioned by the Federation of International Lacrosse (FIL). The CLA is proud to be affiliated with partners that share the same vision and values, including our corporate partners - New Balance Athletics, Warrior Sports, NormaTec Recovery Systems, Canadian Red Cross, Westjet, RockTape, OPRO and Baron Rings - as well as our funding partners the Government of Canada, the Coaching Association of Canada, and the Canadian Lacrosse Foundation. For more information on Canadian Lacrosse Association and the sport of lacrosse, visit our website at www.lacrosse.ca and follow us on Facebook, Instagram and Twitter.
For more information, please contact:
Victoria Klassen
Communications and Marketing Coordinator
Canadian Lacrosse Association
Phone: 613-260-2028 ext. 302
Email: victoria@lacrosse.ca