Canada at the 2019 Fall Classic Recap
---
---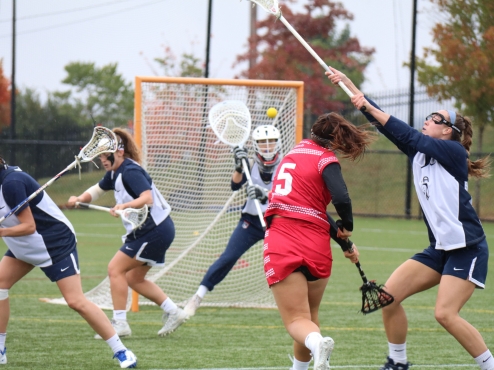 ---
From Oct. 18-20, the Canadian Women's Field Lacrosse Team and the Canadian Men's Field Lacrosse Team competed in the Fall Classic. This was a momentous weekend for Team Canada because it was the first time the men and women's teams were together at the same competition. It was also the first time international teams, Canada and the U.S., played a game using the Olympic trial rules.
For the Canadian Women's Field Lacrosse Team, they opened the Fall Classic on Friday night with a game against Team USA. The game was extremely close for the first half, but the U.S. came away with a win. On day two, Canada took on the University of Maryland's women lacrosse team with Maryland winning 11-8. Sunday was the first time two international teams played a game using the new 6 v 6 Olympic trial rules. With a smaller field, no face offs after goals, and six players on the field, it was a fast game. The final score was 16-7 for Team USA.
"It was a very quick and exciting brand of lacrosse," said Scott Teeter, head coach of the Canadian Women's Field Lacrosse Team. "It allowed the players to showcase their creativity and stick skills. We can be better in certain areas, but it was great to see the players playing on both ends of the field. Seeing defenders actually driving on attackers, and attackers making plays defensively."
The Canadian Men's Field Lacrosse Team had a close game on Friday night against the U.S. Team USA scored two goals within the last minute of the game to win 7-6. On Saturday, Canada played the University of Virginia's men's lacrosse team. Despite being down at half, Team Canada came back for a 16-10 win. During the Olympic trial rules game on Sunday against the U.S., Canada won 23-18.
"The guys had fun with it. It was a competitive game, very fast," said Randy Mearns, head coach of the Canadian Men's Field Lacrosse Team, about the Olympic trial rules game.
"Even watching the women's game, it's quick. It's eight-minute quarters. One of the big differences is timing. The athletes that you'll have to have are two-way guys who can get up and down the field and can play offence and defence. It's not as selective in terms of needing to have poles, and attack men and midfielders. As this evolves, I think it will be rosters of 10 phenomenal athletes who can play both ends of the field. I think that's what it looks like for the future."
Both the Canadian men's team and women's team were a mix of talented new players and Team Canada alumni from 2017 and 2018. With two world championships taking place this year, some athletes had even more recently worn a Canadian jersey. Bianca Chevarie and Cassidy Eckert played in the 2019 Women's Lacrosse U19 World Championships this summer, while Graeme Hossack won gold with Team Canada at the 2019 World Indoor Lacrosse Championship.
"It's been a great weekend with a young group of 13 college guys and some veteran guys. There was great leadership by Graeme Hossack, Joel Tinny, and Luc Magnan," said Mearns. "We felt it was a successful weekend. It was a tough loss the first game against Team USA, but we felt like we were right in that game with a young group. It was great to see us rebound against Virginia, and we got back to a little box lacrosse sense of the game on Sunday. It was a successful weekend and we'll go home happy. It's another step in the process towards 2021 and 2022."
About the Canadian Lacrosse Association
Founded in 1867, the Canadian Lacrosse Association (CLA) is the governing body responsible for all aspects of lacrosse in Canada. Our organization is comprised of 10 Member Associations representing nearly 85,000 individual participants, including coaches, officials, and athletes of all ages and abilities. The CLA's mission is to honour the sport of lacrosse and its unique nation-building heritage, by engaging our members, leading our partners, and providing opportunities for all Canadians to participate. The CLA oversees the delivery of numerous national championships and the participation of Team Canada at all international events sanctioned by the Federation of International Lacrosse (FIL). The CLA is proud to be affiliated with partners that share the same vision and values, including our corporate partners - New Balance Athletics, Warrior Sports, NormaTec Recovery Systems, Canadian Red Cross, Westjet, RockTape, OPRO and Baron Rings - as well as our funding partners the Government of Canada, the Coaching Association of Canada, and the Canadian Lacrosse Foundation. For more information on Canadian Lacrosse Association and the sport of lacrosse, visit our website at www.lacrosse.ca and follow us on Facebook, Instagram and Twitter.
For more information, please contact:

Victoria Klassen
Communications and Marketing Coordinator
Canadian Lacrosse Association
Phone: 613-260-2028 ext. 302
Email: victoria@lacrosse.ca