Canada Wins 19-12 Against Iroquois at World Indoors
---
---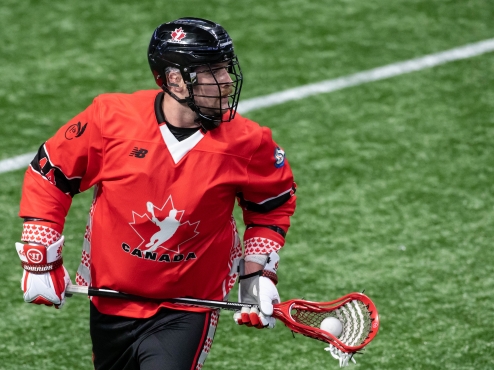 ---
Langley, BC— This was the matchup that everyone was waiting for: Team Canada vs Team Iroquois. It was an exciting game, with Canada down one at the half. Canada made a strong comeback in the second half and won 19-12. This was the last game in the round robin and Canada will be moving on to the semi-finals as first place in the blue pool.
Dhane Smith, who was celebrating his birthday, scored the first goal of the game. It was an evenly matched first quarter with a score of 5-4. In the second quarter, Shayne Jackson, assisted by Robert Church, scored for Canada. Iroquois responded with three goals, sinking their third goal in the last seconds of the quarter and pulling ahead 7-6.
"We needed a little adversity. Sometimes you get punched in the mouth and there's nothing wrong with that. You need to figure out how to respond," said Glenn Clark, head coach of Team Canada. "We went through some details of things we needed to adjust to. We wanted that challenge and to see how we'd respond to it—and we did a good job of responding to it. It was a good reminder of what's at stake and what it's going to take to be successful."
In the third quarter, Canada pulled ahead scoring six goals and Iroquois scoring one. The fourth quarter did not let fans down, with an exciting exchange between Canada and Team Iroquois. With just over nine minutes left in the game, Iroquois nearly closed the gap with 13-12 for Canada. Canada buckled down and scored the next six goals, finishing the game with a 19-12 win.
"It was a rough start," said Dhane Smith. "We knew they were going to come out. It was a change of pace, having played lighter teams. They played well in the first half and we had to adjust, and we did that in the second half."
The atmosphere in the arena as well as on the floor was full of energy and excitement.
"It was a lot more intense and a lot faster," said Clark. "Those guys were playing hard minutes and they were playing physical. At first it took us a while to respond, because we hadn't had that physicality in a game. Sometimes you need to be in that moment and then your mind and your body catches up to it. I think they did a good job second half responding to it. They were consistent throughout."
Team Canada athletes also found the time to meet lacrosse fan and special guest, Doug Pettet. Christian Del Bianco, Jason Noble, and Eli McLaughlin met Pettet, who is a Canadian veteran and a former Minto Cup champion. The three players presented him with a Team Canada jersey.
Canada has the next two days off from games before semi-finals. Smith said he is looking forward to the team bonding over the next few days, including a team trip to Grouse Mountain on Tuesday.
"This is my second time around at Worlds," said Smith. "It's nice meeting new guys and we have a very stacked team."
Schedule
The complete match schedule, including playoff brackets, can be found here.
Information
About the Canadian Lacrosse Association
Founded in 1867, the Canadian Lacrosse Association (CLA) is the governing body responsible for all aspects of lacrosse in Canada. Our organization is comprised of 10 Member Associations representing nearly 85,000 individual participants, including coaches, officials, and athletes of all ages and abilities. The CLA's mission is to honour the sport of lacrosse and its unique nation-building heritage, by engaging our members, leading our partners, and providing opportunities for all Canadians to participate. The CLA oversees the delivery of numerous national championships and the participation of Team Canada at all international events sanctioned by the Federation of International Lacrosse (FIL). The CLA is proud to be affiliated with partners that share the same vision and values, including our corporate partners - New Balance Athletics, Warrior Sports, NormaTec Recovery Systems, Canadian Red Cross, Westjet, RockTape, OPRO and Baron Rings - as well as our funding partners the Government of Canada, the Coaching Association of Canada, and the Canadian Lacrosse Foundation. For more information on Canadian Lacrosse Association and the sport of lacrosse, visit our website at www.lacrosse.ca and follow us on Facebook, Instagram and Twitter.
For more information, please contact:

Victoria Klassen
Communications and Marketing Coordinator
Canadian Lacrosse Association
Phone: 613-260-2028 ext. 302
Email: victoria@lacrosse.ca