Canada Beats England in Game Two at World Indoors
---
---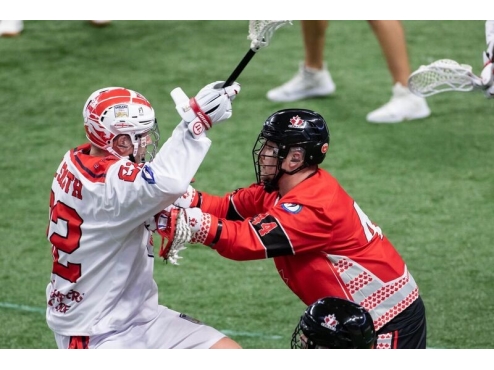 ---
Langley, BC— Team Canada played their second game at the World Indoor Lacrosse Championship this evening in Langley, BC and came away with a decisive 18-5 win against England.
Eli McLaughlin scored the first goal of the game for Canada. England quickly responded and tied the game. McLaughlin, Zach Currier and Dane Dobbie scored again for Canada, ending the first quarter with 4-1 for Canada. Canada pulled away in the second quarter, entering half-time at 12-1. Mike Poulin had a great game in nets for Canada.
England played hard and scored in the last minute of the game with their fifth goal. It was an 18-5 win for Canada during their second game at the World Indoor Lacrosse Championship.
"England is a team that's up and coming. They played hard and they're doing it the right way trying to grow the program with hometown talent," shared Glenn Clark, head coach of Team Canada.
"This was a habit-forming game for Canada. You can develop some bad habits by taking things for granted, but we played honest. We were hard on and off the floor. We did things that will give us success moving forward."
The Canadian Men's Box Lacrosse Team has only practiced and played twice together, yet you'd never know that from seeing their chemistry on the floor.
"There's great talent and they're able to adapt very quickly," said Clark about the team. "You can articulate your messages and they're able to adapt very quickly. The overall lacrosse IQ allows us to do a lot with them quickly. So, it's more about minor adjustments than big things. It's the nature of the guys we've got. They're really smart lacrosse players and very talented."
Saturday is an off day for the Canadian players. The team will be practicing in the morning, signing autographs for a local minor program in the afternoon, and watching the Team Iroquois vs Team USA game in the evening.
Team Canada plays their third game on Sept. 22 at 4:30 p.m. PDT against Israel at the Langley Events Centre, in Langley, BC.
Schedule
The complete match schedule, including playoff brackets, can be found here.
September 22: Canada vs. Israel 4:30 p.m. PDT at the Langley Events Centre.

September 23: Canada vs. Iroquois 7:30 p.m. PDT at the Langley Events Centre.
Information
About the Canadian Lacrosse Association
Founded in 1867, the Canadian Lacrosse Association (CLA) is the governing body responsible for all aspects of lacrosse in Canada. Our organization is comprised of 10 Member Associations representing nearly 85,000 individual participants, including coaches, officials, and athletes of all ages and abilities. The CLA's mission is to honour the sport of lacrosse and its unique nation-building heritage, by engaging our members, leading our partners, and providing opportunities for all Canadians to participate. The CLA oversees the delivery of numerous national championships and the participation of Team Canada at all international events sanctioned by the Federation of International Lacrosse (FIL). The CLA is proud to be affiliated with partners that share the same vision and values, including our corporate partners - New Balance Athletics, Warrior Sports, NormaTec Recovery Systems, Canadian Red Cross, Westjet, RockTape, OPRO and Baron Rings - as well as our funding partners the Government of Canada, the Coaching Association of Canada, and the Canadian Lacrosse Foundation. For more information on Canadian Lacrosse Association and the sport of lacrosse, visit our website at www.lacrosse.ca and follow us on Facebook, Instagram and Twitter.
For more information, please contact:

Victoria Klassen
Communications and Marketing Coordinator
Canadian Lacrosse Association
Phone: 613-260-2028 ext. 302
Email: victoria@lacrosse.ca